BELLOWS FREE ACADEMY'S
OLDEST LIVING GRADUATE
1923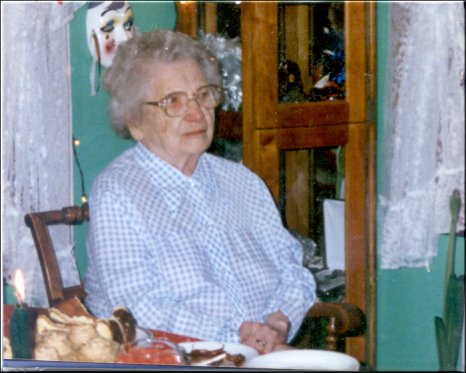 Charlotte Henrietta (King) Keefe (1905 - 2003)

BY BERNARD J. KEEFE
Sometime in the middle 1920's, my mother moved to Waterbury to work at the Vermont State Hospital. Her room mate, Josephine, would marry Clinton Demerritt, who later was Principal at Bellows Free Academy, and later, our Superintendent of Schools.
She married my father on October 3, 1927, in Waterbury with the wedding reception in Fairfax. They had seven children. My mother had eight grandchildren graduate from Bellows Free Academy and has three great-grandchildren presently enrolled.
She lived on the Keefe Family Farm in Waterbury until 1994. At that time she moved to a Senior Citizen Center in Berlin. At 97, she is in relatively good physical health, but seldom recognizes family and friends. On occasion, she mentions "getting up to Fairfax"!
(A special thanks to Bernie Keefe for providing us with not only a photo of his mother, but also the original diploma as well as a little background)
CHARLOTTE H. KEEFE
WATERBURY — Charlotte H. Keefe, 98, a longtime resident of Perry Hill, passed away in the Berlin Health and Rehabilitation Center, where she had spent the past nine years, on Friday, May 2, 2003. Born in Westford on Jan. 4, 1905, she was the daughter of the late William O. and Maude (Laughlin) King. On Oct. 3, 1927, she married Bernard J. Keefe in Waterbury. Mr. Keefe passed away on May 15, 1961. Charlotte was currently the oldest surviving graduate of Bellows Free Academy in Fairfax, the Class of 1923. Moving to Waterbury as a young woman, she worked at the Vermont State Hospital as an occupational therapist for several years. Following her marriage, she was busy as a mother, homemaker and helping her husband on the family farm. Charlotte later worked at the former Bailey's Department Store and the F.C. Luce Co., both of Waterbury. Her memberships included St. Andrew Catholic Church, the Catholic Daughters of the Americas - Court St. Theresa and the Altar Society, all of Waterbury. She particularly enjoyed her large family and playing a competitive game of Bridge. She is survived by three daughters, Mary Sutherland and her husband, Stuart, of North Adams, Mass., Judy Woodruff and her husband, John "Skip", of Waterbury, and Susan Keefe and her husband, Richard Gaull, of Woodstock; two sons, Bernard Keefe and his wife, Dorothy, of Fairfax, and David Keefe and his wife, Pauline, of Waterbury; 24 grandchildren; 33 great-grandchildren; a daughter-in-law, Denise Keefe of Williston; three sisters, Bernice Gallagher of St. Albans, Margarete Raleigh of Swanton, and Patricia Hardy of Shrewsbury, Mass.; a brother, Armand Martin of Schenectady, N.Y.; as well as many nieces and nephews. Two sons, William Keefe and John "Jack" Keefe, and a daughter-in-law, Sally Spence Keefe predeceased her. A Mass of Christian Burial will be celebrated from St. Andrew Catholic Church on Thursday, May 8, at 11 a.m. There will be no calling hours. Interment will follow in Holy Cross Cemetery, Duxbury. In lieu of flowers, the family requests contributions to Central Vermont Home Health and Hospice, 600 Granger Road, Barre, Vt. 05641, or to the Waterbury Food Shelf, 57 South Main Street, Waterbury, Vt. 05676. On-line condolences may be expressed and a guest book signed at www.perkinsparker .com. Arrangements are in the care of the Perkins-Parker Funeral Home in Waterbury.