YOUNG FAIRFAX MUSICIAN - NICOLE MONGEON - PREPARES FOR THE BIG TIME
(By Sara L. Cummings - St. Albans Messenger Correspondent)
(Photos were taken by Greg Bessette of the St. Albans Messenger and have been scanned from the newspaper, so they in no way reflect the quality of Greg's work)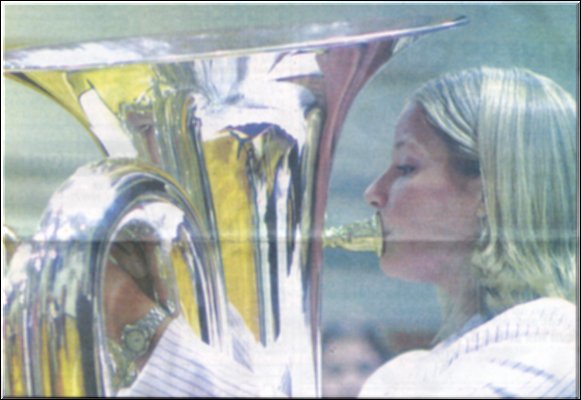 Fairfax, represented Vermont.
The honor, however, didn't come without some trepidation.
Nicole, during a recent interview, remembered how it happened. "My teacher came to me one day and said, "I know this is kind of late so you might as well not even bother but they're having auditions for the National Honors Orchestra, so make a tape and send it in. They're really hard pieces."
"So I thought, 'Great, I only have three weeks to get a tape ready:"'
Still, the Fairfax student decided not to give up.
"So I tried as hard as I could just to throw it together but it was a really hard piece." she said. "Finally I recorded the piece with the teacher and sent it in."
The audition tapes sent in from all over the country by other hopefuls were then reviewed by professional musicians and Nicole had the honor of being the only tuba player selected to participate.
John Baird, Nicole's private music instructor, understands the degree of difficulty involved in his student's efforts.
"Nicole has a special talent and a special future as a symphony player," said Baird. "It takes a special sophistication of musical talent to accomplish such a feat."
One-hundred and fifteen participants, primarily high school seniors representing every state except Hawaii, comprised the 2003 National Honors Orchestra, and some of the bonds formed between its members may prove to harbor enduring relationships.
"We stayed four to a hotel room with people from all around the country. You get to know people pretty well when you're with them around the clock for four days," said Nicole.
Rehearsals were grueling and often exhausting. Maestro Jose Serebrier, world renown and among the most recorded conductors of modern times, tirelessly demanded exceptional results from the orchestra.
"I was the only tuba player, so if that section didn't do well, there was no one else for me to blame it on.... I thought, 'Oh, I have to get this right!"', Nicole said.
After three strenuous days of rehearsals, the National Honors Orchestra performed four pieces and three encore pieces for more than 90 minutes before a live audience in Columbus.
"It was really amazing," said Nicole of the experience.
Perhaps even more impressive than Nicole's accomplishments as a tuba player is the fact that she not only sings and composes music but also plays 12 other instruments, including harmonica, organ, piano, flute, piccolo, viola, violin, guitar, clarinet, trombone, saxophone and trumpet, nearly all of which were self-taught.
"I learned to play the sax to help out a music teacher, and I learned bass guitar to play for someone's graduation. Venus and Serena Williams' father taught them to play tennis from a book. I figured if they could get that awesome learning to play tennis from a book, I ought to be able to learn an instrument that way," explained Nicole.
Initially, Nicole aspired to be a flutist, but when her band instructor informed her that there were ample flutists and asked her instead to learn tuba, she gladly took up the challenge and has continued to excel with it ever since, having regularly participated in district bands, the All State music festival, and the All New England music festival.
In 2000, she was granted a full scholarship to attend an intensive six-week program at the Kinhaven Music School, and in 2001, while participating in a summer music camp at Green Mountain College, she was approached by Phish's Anastasio, who requested that she work with him and in fact wrote a quintet piece to include her on tuba.
She and other talented young musicians with the Vermont Youth Orchestra performed with him at the Flynn Center last year.
"But the biggest place I've ever performed was at the Troy Savings Bank Opera House," she said.
While her future plans include studying musical performance, Nicole has yet to definitively decide her choice of a college, nor does she know where she might end up in her planned pursuit of employment with a well-known performance ensemble.
"I'll more than likely end up in a metropolitan area since those are the places that have large opera houses," she said. "I picture myself like a cowboy riding off into the sunset with my tuba over my shoulder, ending up wherever I do.... l really believe that everyone has something that they really want to do and they just need to find it.
"I'm lucky that I've already found mine."
Her teacher sees great potential in Nicole.
"It has been extremely rewarding to work with her,'' said Baird. "I have never had a student more talented as a brass player."
Baird said Nicole had the opportunity to make her mark on brass "through the wonderful opportunities afforded by the Vermont Youth Orchestra."
What are the keys to Nicole's future success? Baird said, "She has a super personality and a tremendous desire to excel in performance."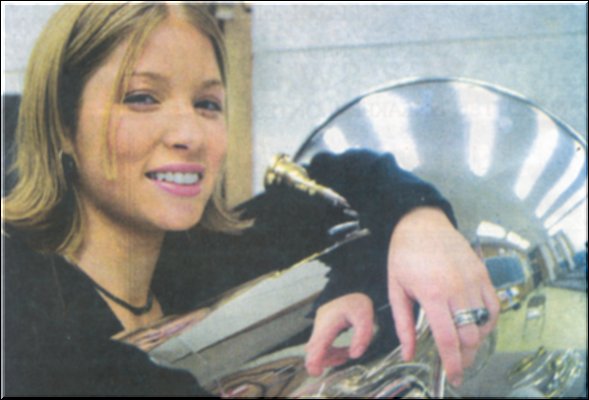 (The above article and photos appeared in the April 19, 2003 edition of The St. Albans Messenger)
Henry A. Raymond
vtgrandpa@yahoo.com
April 20, 2003