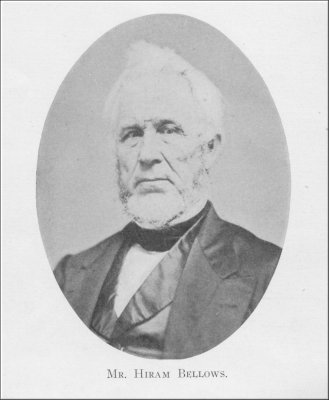 "A man remembered for his works, not for himself", so it has been with Hiram Bellows, a kindly, honest man, who left nearly half of his entire fortune so that the students of Fairfax, Vermont might enjoy the benefits of a higher education that he never had.
Hiram was born in Fairfax on the thirteenth day of February, 1798 to James and Trypena Chandler Bellows. The only advanced education he obtained was one term at the Franklin County Grammar School.
He was only fifteen when his father died. He was a resourceful young man who peddled pottery, managed a general store, and dealt in real estate and mortgages. Hiram married Susan Barlow on June 5, 1830. Although they had no children of their own, they welcomed Susan's niece Margaret Weeks into their home. Hiram and Susan moved to St. Albans in 1851. They had purchased two and one-half acres of land and two houses where St. Albans BFA now stands.
In 1845 and 1846 he served as Senator from Franklin County. Hiram was named as one of the incorporators in the charter of the Vermont and Canada Railroad company. Hiram was elected president of the First National Bank in 1864, the year of the St. Albans Raid, the northern most conflict of the civil war.
Hiram's generosity to the families left in need during and after the civil war was well known. His respect for education and his own motto, "A man is remembered for this works, not himself," prompted him to generously provide for the future of the children of Fairfax and St. Albans. His bequest of land and 250 shares in the Chicago, Rock Island, and Pacific Railroad Company made possible the establishment of a free school in Fairfax.
As provided in Hiram's will it was his wish that a school, bearing his name, would provide for ..."Children of indigent parents to receive the advantage of said school in preference to those who have ample means of support for their children... I make this bequest out of regard to my native town hoping it may be a lasting benefit to rising generations."
Hiram died on October 18, 1876. His wish was granted in 1904 (original write-up stated 1903 which I changed to 1904) when BFA opened its doors to the children of his beloved Fairfax. Although the original building was destroyed by fire in 1941, the spirit of Hiram's generosity has continued through the generations. The tireless efforts of the Fairfax community has continued to build, expand, and support a school of which Hiram Bellows could be very proud.
The above story is one written for the celebration of Mr. Bellows 200th birthday in 1998 by the 6th grade students. The celebration was conceived and organized by the Sixth Grade Faculty and students in the 6th grade of BFA Fairfax.